---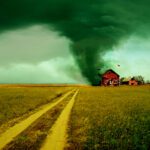 I spent all of yesterday glued to the television, waiting for weather reports to be updated. We were under a tornado watch before my day even began. We had been warned for days that a strong storm front was on the way. What got me most nervous was when the local weatherman said we had not had this strong of a system, perfect in every way for the formation of tornadoes, in a decade.
I was living here a decade ago, and I remember those storms. With that statement, I knew he was not just being cautious. I continued to hang on to his every word throughout the day. I also texted warnings to my daughters who live in my area. I knew they were busy with work and not at home glued to the tv as I was.
With every hour that passed, the line of storms got closer to my state of Tennessee. Before it reached us in West Tennessee, it hit Arkansas with massive destruction. This is typical, as storms in all the states south of us usually get hit first. Most of the time, the storms weaken before they reach us in NW Tennessee. But we were warned that this day would be different. These storms were expected to make tornadoes, and those tornadoes would continue moving with the storm for many, many miles. Unfortunately, the weatherman was right.
The question became not when the tornadoes would pass over but who would be hit on the ground by the tornadoes and who would be spared. As I watched the local weatherman doing a fantastic job of explaining, he continued to point out, minute by minute, where he could see rotation, which meant there was an actual tornado inside the storm. He continued to specifically warn towns and even streets where a tornado was passing over and cautioned everyone to take cover NOW. I have never been so impressed by a weatherman. He would continue to do his "job" till the wee hours of the following day.
I have lived in this area for enough years to have experienced many storms. I have seen my small town of around 2,200 be hit by an F4 tornado right down our main street. Where it flattened homes and killed several neighbors. I saw it take down a line of over 100-year-old trees in our park that were loved and admired by every resident. The trees were snapped like toothpicks. I still have photos that I took of my then-young children in front of those massive trees. My grandchildren will never know their beauty or picnic under their shade.
I have come to the point where I know how to ride each storm out with a prayer and hope for the best. What else is there to do? I can take every precaution, and still, only God knows what will happen. Only He knows who will be spared and who will have their world literally turned upside down.
I feel guilty as I see all the people displaced by yesterday's tornadoes. I have to wonder why my little town was spared this time. Why were we chosen to make it through unscathed when other towns all around us are completely destroyed, leaving almost every resident now homeless? I cannot imagine that amount of destruction in my town. And my mind wonders as to what I would do. The mother in me ponders about every "what if" that could happen to my little family.
Tomorrow the sun will rise, and all of us will go on with our days as usual. We will forget the distant neighbors that just went through hell on earth and had their lives torn to shreds. We will choose when we remember them so that we can get on with our lives as usual. Taking on their burden and worrying about them daily would be too much. If we are wise, we will pray for the victims. That is the very most important thing we can do. And begin those prayers with thankfulness that we were spared again.
---
---
At present, I live in what is referred to as the "Tornado Belt." I never chose to live in this part of the country, nor did I ever imagine that I would. But as life often has it, I ended up here with the best intentions and the most naïve heart.
We moved here to Northwest Tennessee in 1992. I had absolutely no idea about this area having a reputation for tornadoes. I had never heard of this tornado belt thing. I doubt it would have kept me away as I was a firm believer in going wherever my husband needed to go for work. After all, we had two little girls to take care of, and I was nine months pregnant with our third. We needed a home and an income. My husband took the plunge and left his only home in Virginia to start a new life and new career for all of us. I will always admire him for that. He was the hardest worker I have ever known. And I trusted him when he brought us out to West Tennessee.
Today I was once again reminded of the potential this area of the country has for storms, bad storms. In the little town we have lived in for the past 30 years, I have witnessed an average of 5 to 10 yearly tornado warnings. Not watches, but warnings. The highest level for a potential tornado to occur. Tonight, we were thankfully spared. We ended up with only heavy rain and what I call a "normal" thunderstorm.
We had been warned for several days that this line of storms could become severe, and it had set everyone on edge. The last time we had storms so severe was December 2021. Several tornadoes set down in communities within 100 miles of us. One of the worst in a town just "up the road" from our own. Many people completely lost their homes or had extensive damage. Buildings were wiped out, and the lovely little town looked like bombs had gone off. They are still trying to rebuild. I have a friend whose daughter had just finished repairing her home and had only moved back into it two days ago. I can only imagine the anxiety she must have felt with the predictions of these storms today.
Every stormy day like this one, I ask myself why I still live here. I had always planned to move back to either Virginia or my hometown in Northeast Tennessee. I even attempted to move away several times. And each time, my circumstances brought me back here. I guess without my even realizing it; it became "home."
So here I sit, having just witnessed another stormy day, with the warnings, anxiety, and prayers. Thankful that our little town was again spared and grateful that we were only slightly inconvenienced. I can live with that, and I'm sure my neighbors feel the same way.
---
---